Discover more from Julien's Substack
My personal Substack
StrongHodl by ValeoX is Officially Launched! 🚀
ValeoX automates a portion of its First Class Bitcoin Services!
(Version en français ici)

It's official! StrongHodl is now available on Telegram for all our registered clients at ValeoX. We designed it with you in mind to make buying and selling cryptocurrencies easier.
Here's what StrongHodl will allow you to do:
🟢 Buy and sell Bitcoin, USDT, and Ethereum through Interac transfer.
⚡ Set up recurring Bitcoin purchases (Dollar Cost Averaging).
💼 Save your wallet addresses for future transactions.
The lightweight format of our application (chatbot) enables us to quickly incorporate new features based on our clients' needs.
---
This application is truly special, so in this text, I will delve into the history, functionality, and objectives behind it.
Why is the launch of StrongHodl so significant?
Today marks a pivotal moment for ValeoX as we automate a portion of our services, introducing an unique user experience in our industry.
Where does the name STRONGHODL come from?
Originally, it was the first choice of name when my associates and I launched ValeoX in 2019. We eventually opted for a simpler option. For us, this name symbolizes the last fortress, representing the community that steadfastly supports Bitcoin and its ecosystem, whether in positive moments or challenging periods.
As for the term "hodl," it is not a typo. The origin of this word dates back to a post on the BitcoinTalk forum in December 2013 by a user. In that post, the user expressed the intention to hold onto their bitcoins despite price fluctuations and market uncertainties, accidentally using the word "hodl" instead of "hold." This term, which has since become a meme, is now widely adopted to describe the long-term holding strategy for cryptocurrencies.
Why the profile image from the movie 300?
After reaching a peak of $1100 in 2013, the price of Bitcoin tumbled and stabilized between $300 and $400 for over 20 months. In the summer of 2015, it even dropped below $200. When the price finally rebounded in 2016, the community celebrated with memes inspired by the movie 300 on the Reddit forum. That's where the reference comes from.
A recap of ValeoX Services and what clients appreciate about us
ValeoX is renowned for its personalized services, allowing individuals and businesses to buy and sell crypto without relying on online exchange platforms. Transactions occur peer-to-peer, with both coins and fiat funds directly transmitted to the client's wallet. In our jargon, we describe ValeoX as an OTC desk.
User experience above all!
StrongHodl has been developed with the same spirit of interaction and peer-to-peer transactions, aiming to further simplify the lives of our clients. We sought to combine the personalized experience of ValeoX services with the automation of certain processes that repeat during a transaction. For instance, getting et set the quote price, calculate the exact amount of coins, generating the address, sending the proof of transfer (hash), etc.

What you see is what you get!
Transparency is key in StrongHodl. The reference price, fees, everything is clearly displayed. No hidden fees in the price unlike many exchange platforms. We've addressed this point that bothered me as a user as well.
StrongHodl is not an automated exchange platform!
Here's a quick summary of the background process:
For a purchase:
The user sends funds via Interac and confirms their purchase price.

StrongHodl notifies a ValeoX agent who manually processes the order promptly.

Once the coins are sent, the client receives a notification with relevant transaction details.
For a sale:
The user sends coins to a dedicated address and confirms their selling price.

StrongHodl notifies a ValeoX agent who manually processes the order promptly.

Funds are transmitted via Interac, and the client receives a notification with transaction details.
This entire process is swift, and ValeoX never retains client funds. Everything is transferred to the client's wallet after each transaction.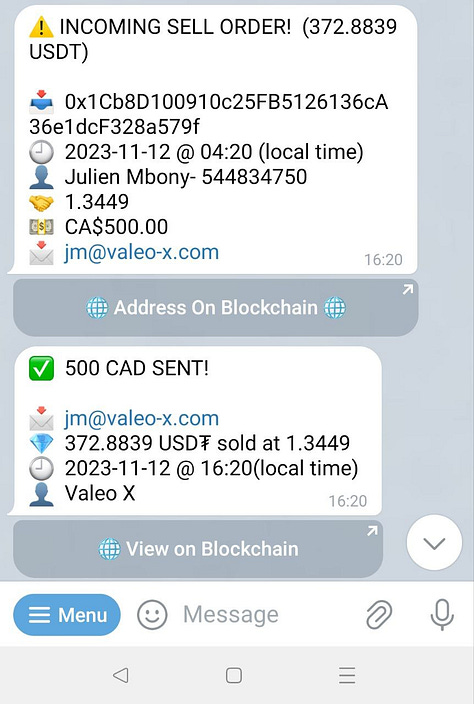 Why develop an application on Telegram instead of a mobile App?
For a specialized business like ValeoX, where personalized services are central to our mission, the Telegram format of StrongHodl is ideal. Not only is supporting a mobile app costly, but using Telegram, with the resulting economies of scale, is reflected in the competitive rates we offer our clients. 
Moreover, with the rise of "Super apps" like Telegram, WhatsApp, and WeChat, where users spend most of their time, extending our services on Telegram, a platform already used for client messaging, makes sense.
What sets StrongHodl apart and makes it essential?
The application's accessibility is truly standout! While we could discuss the advantages of using StrongHodl, such as the unique text-based interaction experience or the fact that StrongHodl updates automatically without requiring user action, we prefer to let users discover these benefits themselves.
What about the security of the app?
Here are some of many elements that have been implemented to increase Bitcoin accessibility without compromising security:
The user's Telegram userID is linked to the client's verified account and phone number at ValeoX.

As observed in the background process, the counterparty is always executed manually by a ValeoX agent, whether it's for coins or fiat. Also, StrongHodl is not a fully automated platform, reducing the risk of phishing and hacking.

Users can only carry out one transaction at a time, and it must be verified and completed by an agent before they can initiate a new one.
Why did we choose Bitcoin, USDT and Ethereum?
Over the past four years, the majority of our transactions have involved BTC, USDT, and ETH (in that order of importance). These three cryptocurrencies have the most pairs and are the most traded compared to others. Focusing on these three makes sense as clients can easily and cost-effectively exchange them for other altcoins on multiple exchange platforms.
Check out this brief demo on how to use StrongHodl:
Now convinced, how to access StrongHodl?
To use the application, you first need to open an account with ValeoX, a process that takes between 5 and 10 minutes. Once your account is open, the access code for StrongHodl will be sent to you by email.
In conclusion, from a personal perspective...
StrongHodl represents a significant achievement for me. I learned to code javascript while working on this application since 2020. The beta version has been around for three years and was used by a few portion of our customer. It was this year, after careful consideration, that we decided to update it for widespread deployment. 
I sincerely hope you enjoy this new product!


Julien Mbony, CEO @ ValeoX
To buy, sell, or if you have any questions about ValeoX services, we invite you to email us at info@valeo-x.com, call us at 581-980-3779, or reach out directly to Julien Mbony on Telegram.